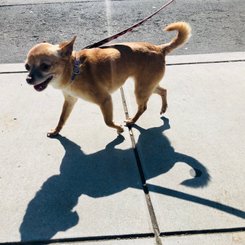 Dog walks are offered in 20, 30, 45 or 60 minute visits in length. Each visit consists of a walk in your neighborhood, fresh water after the walk, any treats or meals that you want given or other requests you may have within the time period. After the visit, I will always text you a picture of your pet from the walk as well as give you an update letting you know how the visit went and anything I feel you should be aware of.
Many dogs suffer from anxiety having to be in a kennel away from their own homes, not knowing where they are. Having them in their own home gives them great peace of mind and makes them feel much more at ease. They are used to their own smells, bed and routine. I will stay the night with your pet(s) and stay consistent with their routine so they are happy and relaxed while you are away. Overnight visits start at 6pm and end at 8am covering dinner and breakfast time. If more visits are needed, we can add visits to customize your needs as you need them. A text message will be sent daily with a picture of your pet along with an update how they are doing so you can feel comfortable they are in good hands. *Overnights are very limited
Puppy visits are great for people that have schedules that don't allow them to always be there for those extra feedings puppies need, taking them out extra times to go potty, crate training, reinforcing rules/training and most importantly being consistent with your routine making it easier and faster for them to learn what is expected of them from an early age. Each puppy visit is 20, 30, 45 or 60 minutes and a text message will be sent after the visit with a picture and a message letting you know how the visit went and anything I feel you should be aware of.
If you find you can't get away from work to run your pet to the groomer or the vet for one of their appointments, I can drive them to their appointment and bring them home for you. I will get all of the information you need as far as details about how the appointment went and will leave that information for you. I am insured to drive your pets. Most taxi services will be in the morning for pick up and later afternoon for take home, depending on the daily schedule.
Sometimes pets don't need overnight visits, but you need someone to come in and feed your cat/change the litter box or just come over to take the dog for a walk and feed him/her while you are away. Some animals have doggy doors and don't need to have someone in the home with them overnight. You may also want the mail/newspaper/packages brought in, lamps turned on, plants watered, etc. Pet Sitting visits last 20, 30, 45 or 60 minutes depending on your needs and can be customized.